Dental clinics in Vietnam has recently witnessed significant development as a result of the growing demand for dental care as well as the development of superior infrastructure and technologies. The most prominent feature is the most contemporary dental tourism, which provides myriad benefits to consumers.
Overview about dental in Vietnam  
According to statistics, roughly 100,000 foreigners visit Vietnam each year for dental care, including tens of thousands of Australians and Cambodians. Vietnam used to be considered among the top three Southeast Asian countries by Australians due to its high-quality and economical dental services.
Vietnam, for instance, offers dental care at prices that are three to ten times lower than in other nations. Dental treatment, for example, costs 30% less in Vietnam than in Thailand, and the service of smile design costs $8,800 rather than $50,000 in Canada.
Dental implants cost at least $2,000 in other countries, but just about $800 in Vietnam. Similarly, dental fillings in other nations cost over $2,000, but only $50 here.
Since Vietnam's dental sector has improved in terms of quality in recent years, this dental clinic has embraced cutting-edge technology such as dental turbines, 3D printers, CT scanners, and immediate digital dentistry. It also has private dental labs for research, clinical surgery, and sterilizing rooms.
Every piece of equipment is applied to the strictest hygienic and sanitary standards. Patients' trust and satisfaction are highly impacted by knowledgeable and professional Vietnamese dentists with years of experience in dental treatments and surgeries.
A substantial number of tourists have been drawn to Vietnam by dental tourism, which mixes the tourist experience of the place with dental care. Patients may obtain dental care in renowned dental clinics while also seeing well-known tourist destinations in countries with beautiful natural landscapes and rich historical-cultural qualities.
In this manner, tourists may visit Vietnam for less money while also learning new things.
Top 5 clinics for trying dental in Vietnam 
1. BeDental in Vietnam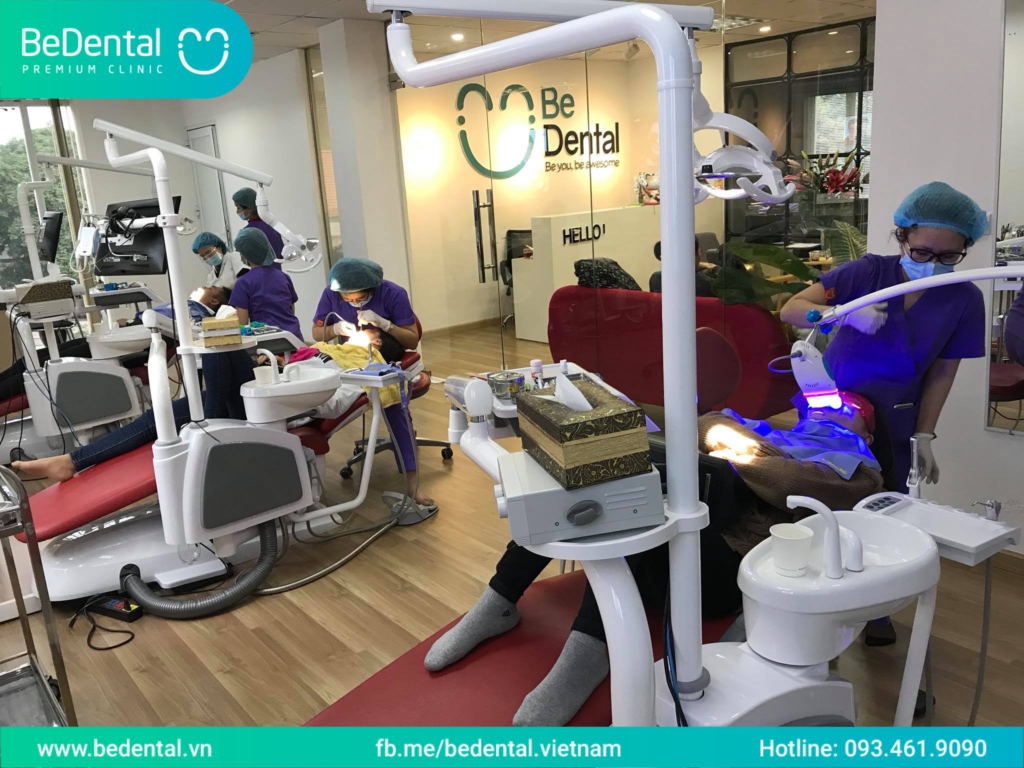 BeDental was established in 2012. After a period of operation, the center quickly became a popular address for providing dental services and a leader of the dentistry field. With highly trained dental professionals, the latest facilities including a 3D Scan CT scanner, Panorama and Cephalo X-ray machines, a laser teeth whitening system, etc, and advanced technology, BeDental is going to become the best dentistry center in Vietnam. BeDental was established with the mission "Sow smile, spread success", and believe that everyone deserves to have a charming and confident smile. That's why Be tried their best to solve the dental problems or obstacles that hide your stunning smile. 
With the best dental professionals in Vietnam, BeDental brings devotion and dedication to every customer as if we were family. BeDental is a reputable and professional dental system with various branches in city centers, which helps customers travel easily. In addition, BeDental has the latest imported dental equipment, which is certified for safety by the Ministry of Health. 5-star facilities provide customers with a relaxing atmosphere while experiencing high-class dental services.
Service: Porcelain teeth, crown and veneers; dental implants; orthodontics includes metal braces, metal self-ligating braces, ceramic braces, invisalign clear aligners, and lingual braces; dental treatments composed of gum contouring surgery, wisdom teeth extraction, tooth filling, teeth whitening, tartar removal, and root canal treatment.
2. Elite dental 
Elite Dental is a collection of highly qualified dentists with a lot of dental expertise. All dentists received their education in France and the United States. The cutting-edge clinic is outfitted with cutting-edge equipment, such as panoramic X-rays and 3D CT scans, to ensure precise treatments and diagnoses. For patients who require prosthodontics, including as dentures and crowns, the facility has an on-site laboratory, which speeds up treatment. The fact that Elite Dental in Vietnam won the Global Patients' Choice Awards three years in a row, from 2016 to 2018, speaks volumes about the establishment's quality and reputation.
Services: Regular dental care includes deep cleanings, polishing and scaling, fillings, and checkups. Specialty dental treatment includes oral surgery, dental implants, periodontics (gum disease), prosthodontics (false teeth), and orthodontics (braces).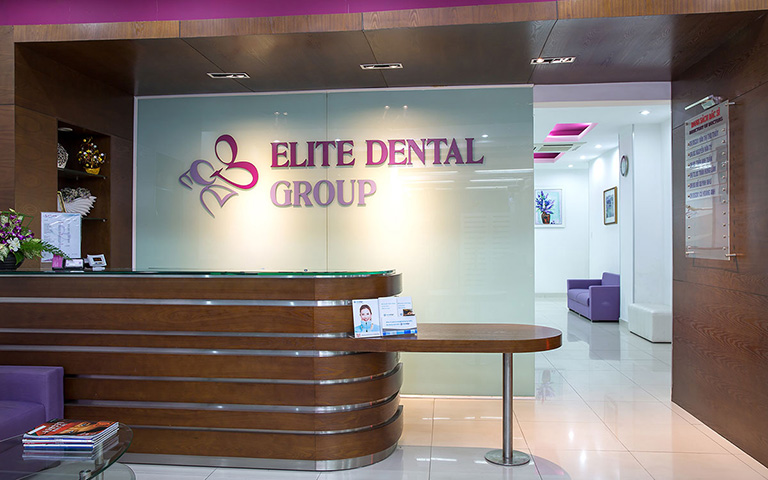 3. The East Rose dental
The office is equipped with cutting-edge technology, such as a 3D Scan CT scanner, Panorama and Cephalo X-ray machines, a laser teeth whitening system, and so on. Materials utilized at East Rose Dental in Vietnam are sourced from the world's best dental material manufacturers in Japan, Germany, and Switzerland, in addition to various other treatment techniques. Many patients have recognized and acknowledged that the East Rose Dental team has successfully handled thousands of cases, from basic to complicated.
Services: implants, all-on-4 and all-on-6 implants, the Hollywood smile, braces and Invisalign, gum disease, porcelain crowns and bridges, dental care, wisdom tooth removal, teeth whitening, porcelain veneers, root canal treatment and removable dentures are some examples of dental procedures.
4. Starlight dental 
Starlight Dental is one of the most well-known names in Vietnamese dentistry, having been named one of the top six dental travel services in Ho Chi Minh City and one of the top four clinics in Vietnam by the Vietnam Economic Times, Whatclinic, and Excellence in Dentistry 2011-2015. The dentists in this group are talented, experienced, dedicated, and well-known in their fields. The most advanced dental technology available anywhere in the world is employed, with all equipment imported directly from Europe and the United States.
Services: Children's dentistry (mouth guards, kids dental cleanings & exams, kids emergency, dental sealants), general dentistry in Vietnam (crown & bridge, gum care, denture, professional cleaning and check up), orthodontics (early orthodontic treatment and functional treatment, brace treatment, cosmetic brace treatment, 3D digital clear Aligners For Invisible treatment, etc.), cosmetic dentistry and surgery, and dental implants.
5. Westcoast dental 
West Coast Dental is considered as the leading dental clinic in Vietnam for dental implants, with a global, competent team of dentists from Australia, the United States, Italy, Spain, Japan, Germany, Canada, and Vietnam. All of the clinic's supplies are safe and meet FDA and Health Canada requirements. The clinic's fundamental principles are passion for dentistry and devotion to excellence.
Services: An excellent location to test Vietnamese dental implants, expert cleanings, pediatric dental care, professional teeth whitening, and root canal treatment, all on 4 dental implant treatments, bone repair, braces, porcelain veneers, wisdom teeth extraction, dental crowns, and dental bridges.
Dental Tourism in Vietnam
More than 30 clinics have joined up with Vietnam Dental Tourism to help dental tourists plan their trips to Vietnam and receive dental care and treatment. Individual services, comprehensive packages, and dental care packages are the three alternatives for dental services. Five notable packages range from $2,000 to $26,000 and include a variety of dental treatments, hotel accommodations, meals, a return airline ticket, and airport transfer over the period of one to five days.
To be specific
Smile design with two arches and a three-day diamond package: $12,000.
– Smile Design 2 Arches Gold Package: $10,000 for 3 days.
Silver Smile Design 2 Arches Package: $7,500 (3 days)
– Wisdom tooth kit (1 day) $2,000
All-on-4 whole mouth implant package (3-5 days): $26,000
Vietnam dentistry tourism provides a range of diversion packages, such as a one-day museum excursion and a four-day shopping tour of Saigon, all with the purpose of giving international guests great dental treatment and unique experiences in Vietnam. You might also consider Ha Giang, Sapa, Hanoi, Ninh Binh, Halong, Danang, Hoi An, Hue, Ca Mau, Nha Trang, and Ho Chi Minh City, among other places in Vietnam.
Below is an article that Lang moi shares for you, if you have any questions that need to be answered, don't hesitate to contact us!