At-home teeth whitening products offer a convenient and effective way to achieve a brighter smile.
Professional At-home Teeth Whitening Kits
Your dentist will prescribe professional at-home teeth whitening kits that include a high concentration of either hydrogen peroxide or carbamide peroxide. They are more expensive than retail-ready whitening kits, but less costly than in-office treatments.
Custom teeth whitening trays are intended to keep the whitening solution on your teeth and away from the sensitive gum region. Professional at-home teeth whitening kits are easy to use and produce noticeable effects after only one to two weeks of treatment.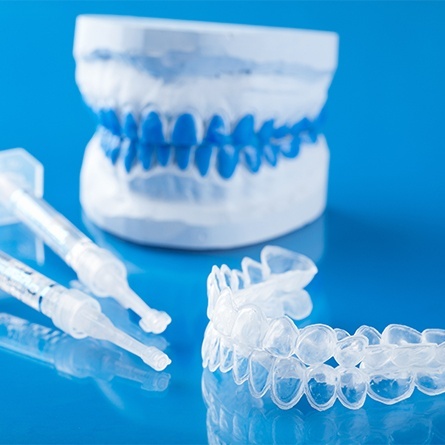 At-Home Whitening Procedure
Without a prescription, professional at-home whitening products are not accessible. To ensure that the whitening solution is in place, custom-fitted dental trays are required. Without them, a large portion of the solution can be dispersed or applied to sensitive areas of the mouth that may develop dental disease.
To bleach your teeth at home, follow these steps:
The dental putty used to create an impression of your teeth will be mainly replaced by a digital scan of your upper and lower teeth.

Custom trays will be created in-house or at a dental lab. Depending on where the trays are manufactured, the turnaround time might range from a few days to two weeks.
While the whitening trays are being made, the dentist will note the natural color of your teeth on a dental chart for future reference.

Once the trays are completed, an appointment will be scheduled to instruct you on how to properly apply and dispense the solution, as well as other information to get the greatest outcomes.

Before utilizing professional at-home teeth whitening products, you should brush, floss, and rinse your teeth thoroughly.

The process is typically performed for an hour every day over the course of two weeks, and some brands can be worn overnight. You would not be allowed to eat, drink, or smoke while wearing the trays and for 30 minutes after removing them.
After two weeks of at-home teeth whitening treatment, a follow-up appointment will be scheduled to track your progress and compare it to your reference color.
If you need more whitening, the bleaching solution can be used for touch-ups.
Other At-Home Teeth Bleaching Options
The most popular options for at-home teeth whitening include:
Strips and gels for teeth whitening: These treatments must be applied directly to the teeth with a brush or a thin strip once or twice daily for 10 to 14 days. The effects continue for at least four months.

Tray-based teeth bleaching systems: So as to whiten teeth with this approach, a mouth guard-like tray is filled with a peroxide-containing bleaching paste or gel and put to the teeth for one to several hours each day for up to four weeks. You may buy tray-based teeth whitening kits at drugstores or have one custom-fitted by your dentist.

Tooth whitening toothpaste: Because toothpaste is mildly abrasive, they all help to remove stains from teeth. Whitening toothpaste, on the other hand, include chemicals or polishing agents that help eliminate stains from teeth without the use of a bleaching agent. Although some whitening toothpastes include peroxides, they do not remain on the teeth long enough to whiten them.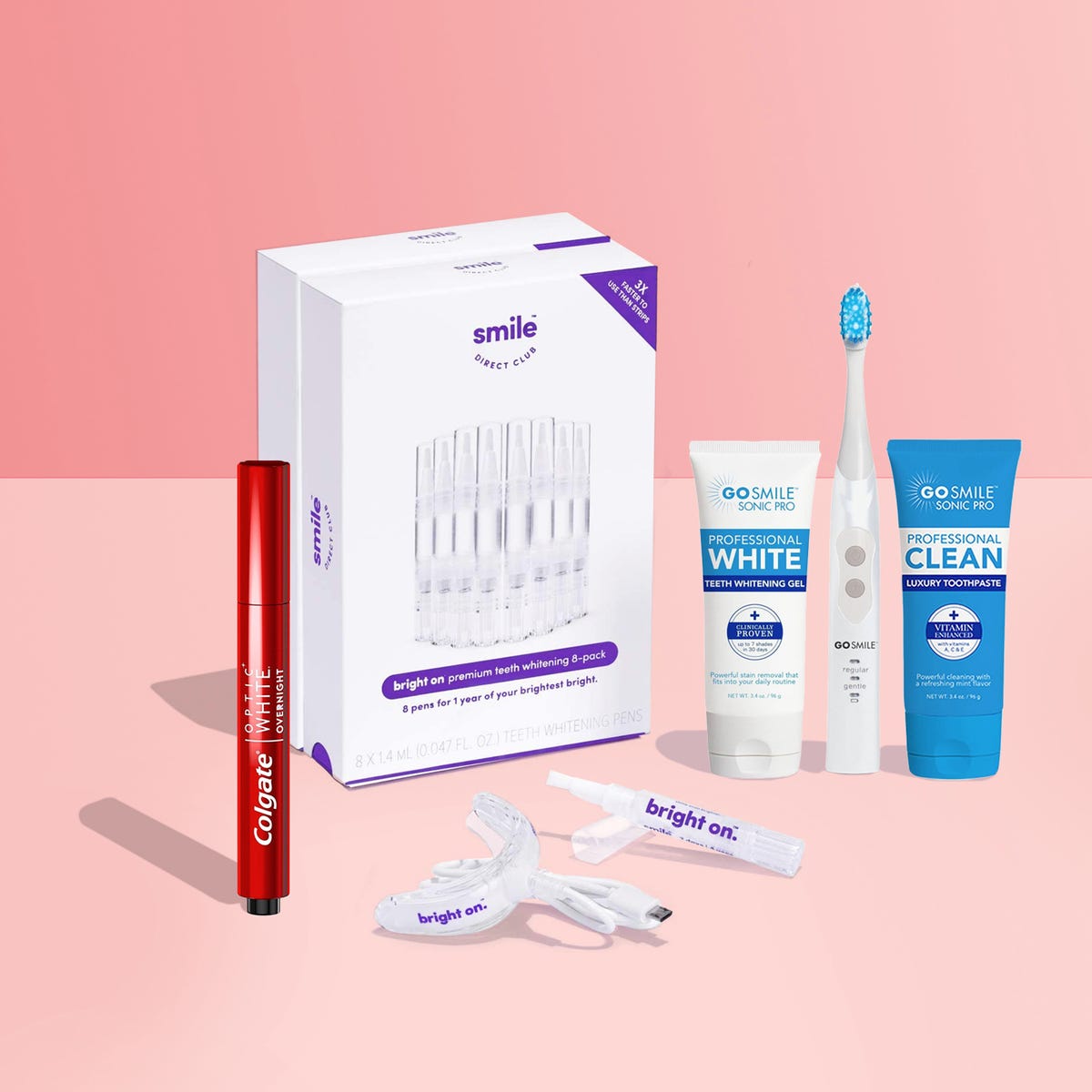 If at-home teeth whitening is not for you, professional in-office whitening is an option. Although this technique is more costly than at-home tooth whitening, the results are more reliable. Furthermore, you must visit the dentist more than once, which takes a significant amount of time.
Professional in-office whitening, on the other hand, gives the best effects in a relatively short amount of time. The procedure is quite simple:
Before we begin, your teeth will be polished to remove any plaque.

Then, gauze will then be used to isolate your mouth, and a barrier will be placed along your gum line to protect it from the solution.

A whitening solution will only be applied to the front surface of your teeth.

To activate the peroxide, several whitening solutions incorporate curing light or laser time. The solution can be left on for 30 to 60 minutes or reapplied for up to an hour, depending on the brand.

When the reference shade is obtained, the teeth are cleansed (or after the maximum time). To alleviate any pain, a fluoride application may be used.
You can return till you're pleased with your shade. The frequency with which you require touch-ups is determined by your eating and drinking habits. Regular coffee and tea drinking, for example, can quickly discolor teeth.
How to keep your teeth white?
Whether you choose an at-home teeth whitening procedure or have your teeth bleached by a dentist, you can help retain the benefits by brushing, flossing, and rinsing your teeth every day combined with scaling and polishing each every 6 months. Furthermore, avoid acidic and tannic foods and beverages such as:
Caffeine and sports drinks

White and red wine

Sparkle beverages 

Berries and other strongly-colored foods

Sauces (soy, tomato, curries, etc)
Below is an article that Lang moi shares for you, if you have any questions that need to be answered, don't hesitate to contact us!
See more:
Porcelain veneers – What are they?